Black Thai
81-16 Northern Blvd, Jackson Heights, NY 11372
Order now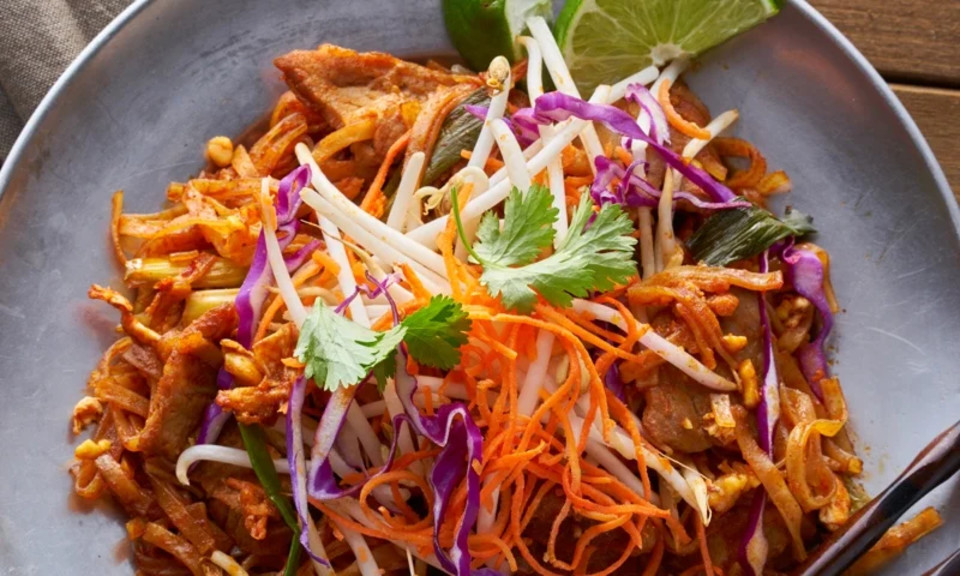 Brianna
Wow, this is probably the first time I ordered delivery from a Thia place and the food was on point. It was so good. I loved the pineapple fried rice, just phenomenal. The curry puffs were also so delicious, like better than any empanadas I have tried and being Hispanic these were a hit. The green tea fried ice cream was good as well, I prefer my green tea fried ice cream more thicker in batter, like they do in the sushi places. But overall I loved how they came with the strawberry and chocolate syrup. Overall, food was really, really good and everything was awesome. About to order again really soon.
Mohammed
The food is great and a by product of that is its a little pricey. To me its worth because it tastes amazing, delivery is wicked fast, food's still warm, well packaged, and my appetizers are still crispy once I get them. My favorites from here are the Curry Puffs, Chicken Thai Style Fried Rice, andThai Ice tea. I live like 8 blocks away from them and usually get my food within 15 minutes of placing an order. They're the fastest on GH for my area JH.
Shaina
Order was quick and after a quick correction of an error in the order -
which was corrected - was also very delicious. The dish which was incorrect. had been misread and a spicy dish, which we could not eat, had been delivered first. Once we contacted the restaurant we received a replacement right away.
Ash
This place is my go to for a reason, and I'm adding that I really appreciate that they listened about not including utensils. I lot of places ignore that request and I appreciate that Black Thai cares. Also food is always really good and arrives fast.
Maria
They are above. This is the Third time they forgot the soy and hot sauce and I dont enjoy fried rice without those things. Maybe if they add a button for sauces that would be great. But attention to the notes is really important
David
An average Thai take-out place can throw a lot of spicy-heat in a dish. Few let real flavor sit front and center on your palate, with heat as a side note. Black Thai is a triple threat: dazzlingly fast delivery (and the food is really hot when it arrives), very reasonable prices, and high-quality, flavorful cuisine. A recent order was missing the Crispy Duck Rolls we were looking forward to. Not 10 minutes after we discovered the omission, the door buzzer sounded again; it was the delivery person returning with the rolls. We didnt even have to call. If Black Thai isnt your Jackson Heights go-to for excellent Thai food, you need to have your head examined.
Sana
The high ratings for this place is justified. I've ordered from here many times and have never had a problem. They're almost always early and have never been late. Based on my experience with other Thai places, the food is really good too. My usual is the spicy fried rice with chicken and the curry puffs, but I've also tried the pad thai with chicken, spring rolls, duck rolls, chicken wings and dumplings. All good. Really thrilled there's a reliable Thai place in the neighborhood that delivers. Highly recommend this place.
Jessica
I'm a little embarrassed to say that my husband and I order from this place every single Friday - it's always so delicious, we haven't bothered trying any other restaurant for takeout. This place is great, and the delivery is so fast. We always order the massaman curry, the spicy eggplant sauteed entree, and the steamed veggie dumplings for an appetizer, but everything we've tried has been SO good (other than the seafood soup, which I don't recommend).
Kisha
Black Thai is our go to favorite in Jackson Heights. ALWAYS super delicious, super fast delivery & piping hot when we get it. (Last night it was delivered before I got the Seamless order email!)
The curry puffs are literally little cloud puffs of yum. And highly recommend the Pad See Ew, Panang curry, crispy duck salad, roti, pineapple fried rice and the dessert!!
Claudia
I love this place. Food is delicious /Great customer service if we are going to rate the delivery then 100% prompt service. One time by accident order spicy (of course food was super spicy) called them back gave me a fresh new order without hesitation. black Thai you guys rock!!!!
About us
Asian, Dinner, Healthy, Lunch Specials, Salads, Thai, Vegetarian
Today

Delivery: 11:00 AM - 10:45 PM

Takeout: 11:00 AM - 10:45 PM

Delivery

Monday:

11:00 AM - 10:45 PM

Tuesday:

11:00 AM - 10:45 PM

Wednesday:

11:00 AM - 10:45 PM

Thursday:

11:00 AM - 10:45 PM

Friday:

11:00 AM - 10:45 PM

Saturday:

11:00 AM - 10:45 PM

Sunday:

11:00 AM - 10:45 PM

Takeout

Monday:

11:00 AM - 10:45 PM

Tuesday:

11:00 AM - 10:45 PM

Wednesday:

11:00 AM - 10:45 PM

Thursday:

11:00 AM - 10:45 PM

Friday:

11:00 AM - 10:45 PM

Saturday:

11:00 AM - 10:45 PM

Sunday:

11:00 AM - 10:45 PM